5 maggio 2018, Shanghai
Si e' chiusa oggi l'edizione 2018 di IE Expo Shanghai, fiera leader del settore ambientale che ha registrato un incremento del 20% del numero dei visitatori rispetto al 2017, con circa 65.000 operatori che dal 3 al 5 maggio hanno visitato i 1762 espositori presenti in un'area di oltre 128.000 m2.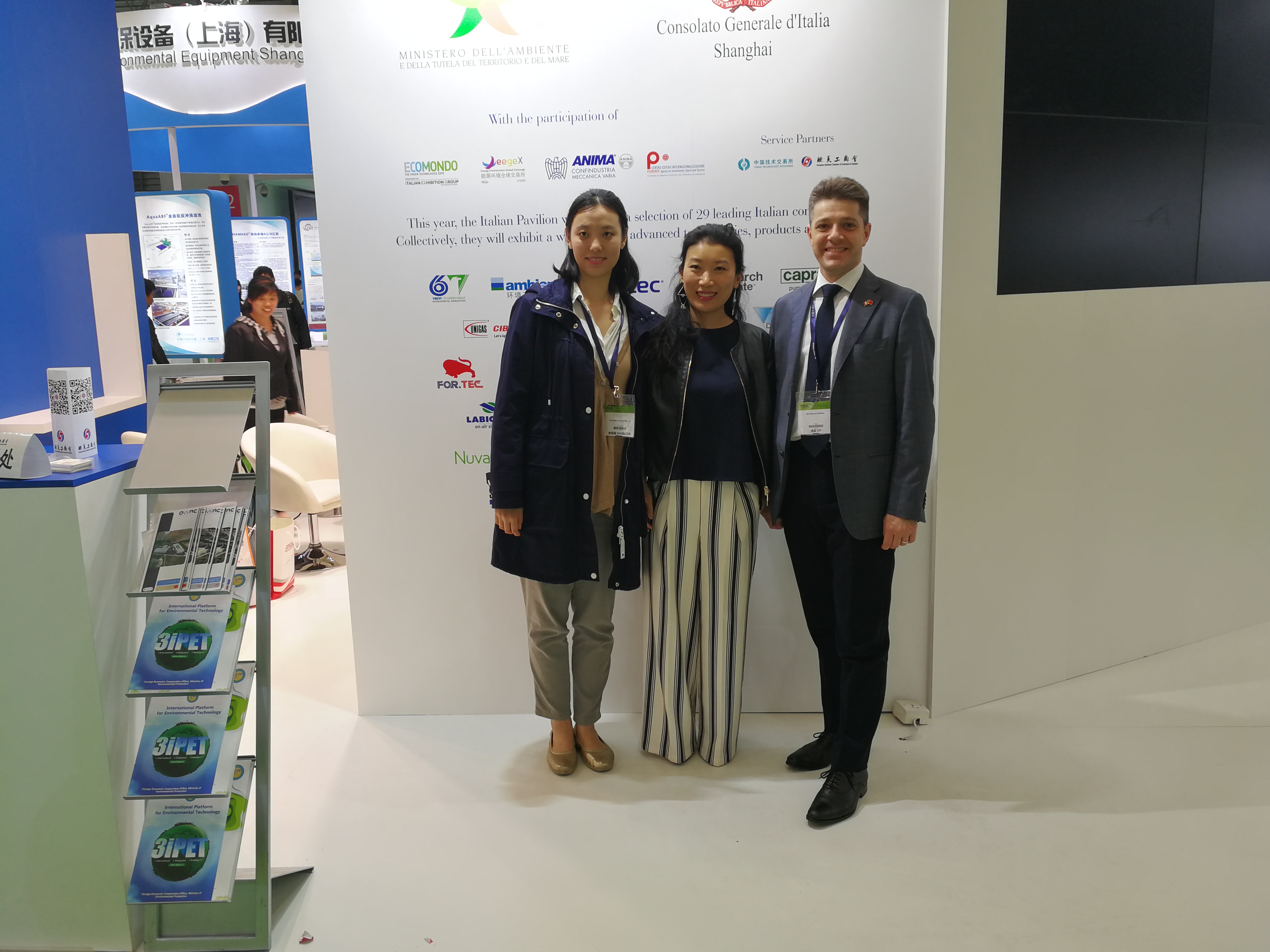 Anche quest'anno, il Ministero dell'Ambiente e della Tutela del Territorio e del Mare ha promosso il Padiglione Italia, presentando 31 imprese di eccellenza nei settore della protezione ambientale e delle tecnologie verdi. Presente, inoltre, il sistema fieristico e associativo italiano, con Ecomondo, ANIMA (Confindustria) e il Centro Estero internazionalizzazione del Piemonte (CEIP) .
Le aziende italiane del Padiglione Italia sono:
6V SRL
AMBIENTE SC.
ANIMA - FEDERATION OF ITALIAN ASSOCIATIONS OF MECHANICAL AND ENGINEERING INDUSTRIES
AUTEC SRL
BIOSEARCH AMBIENTE SRL
CAPRARI SPA
CIB UNIGAS SPA
DECOMAR SPA
DULEVO INTERNATIONAL
ECOFAST ITALIA SRL
EEGEX - ENERGY ENVIRONMENT GLOBAL EXCHANGE
EXXRO SRL
FOR.TEC. INCINERATORS MANUFACTURER
GIACOMINI HEATING AND COOLING TECHNOLOGY (BEIJING) CO., LTD.
GNR SRL
HYDRO ITALIA SRL
IEG - ITALIAN EXHIBITION GROUP SPA - ECOMONDO
JCOPLASTIC SPA
LABIOTEST SRL
MEGA SYSTEM SRL
MONTELLO SPA
NERON PUMPS SRL
NGV GAS SRL
NUVAP SRL
OWAC SRL
PCF ELETTRONICA SRL
PETROLTECNICA SPA
PIEMONTE AGENCY
ROVATTI POMPE SPA
SELTEK SRL - STOKKERMILL RECYCLNG MACHINERY
SYSTEA SPA
TREVI SPA
VOMM SPA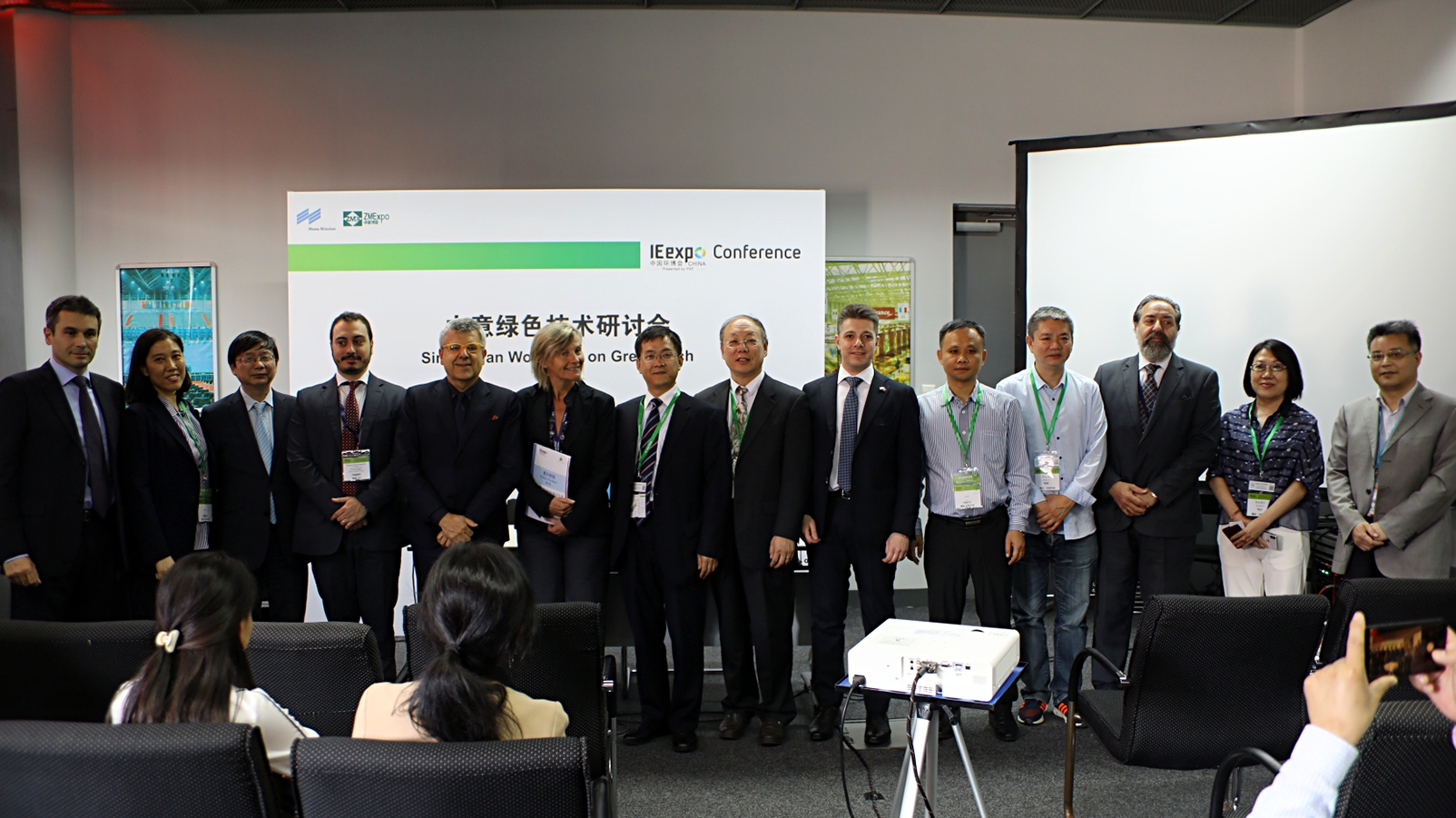 Il programma ha previsto l'organizzazione di incontri B2B con piu' di 110 imprese cinesi e la partecipazione al "Sino Italian Workshop on Green Tech", promosso in collaborazione con CTEX China Technology Exchange, EEGEX Energy Environment Global Exchage, la Camera di Commercio italiana in Cina.
In rappresentanza delle Istituzioni italiane hanno partecipato il Ministero dell'Ambiente e della Tutela del Territorio e del Mare e il Consolato Generale d'Italia a Shanghai, mentre di parte cinese ha partecipato il centro di cooperazione internazionale del National Development Reform Commission e la CECC – China Environment Chamber of Commerce.
Durante il workshop sono state presentate due proposte progettuali italiane, una relativa alla mobilità sostenibile urbana, proposta da IVECO, e la seconda relativa all'approccio integrato alla bonifica dei siti portuali contaminati ed alla gestione dei loro sedimenti, presentato da 6V – Gruppo TREVI, Petroltecnica SpA e Decomar SpA, alle quali sono seguiti i commenti di primari gruppi industriali cinesi, tra cui CRCC – China Railway Construction Corp e Beijing Enterprises Water Group